Schaan, Liechtenstein, Jan 17, 2023 – (ACN Newswire via SEAPRWire.com) – EtherMail, the first Web3 email solution setting the standard for anonymous and encrypted wallet-to-wallet communication, facilitated Web3 voting for Decrypt Studios' inaugural Crypties Awards 2022.
Launched by Decrypt Studios, the Web3 production studio, The Crypties are the crypto industry's preeminent annual awards initiative, showcasing the standout achievements of Web3 innovators. A decentralized token-gated voting system for the inaugural awards, held at Art Basel Miami in November 2022, was open to the public with a number of nominees across nine categories such as NFT Project of the Year, DAO of the Year, and more.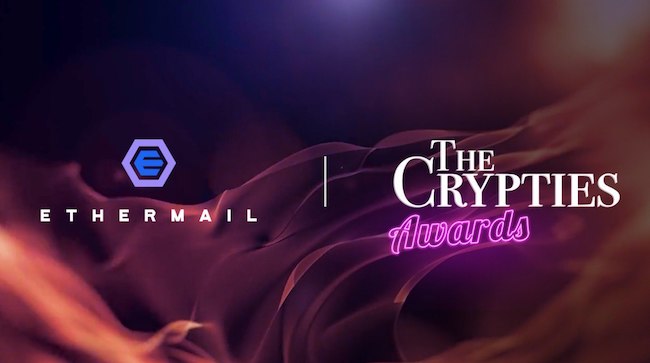 EtherMail enabled Decrypt Studios to engage members of the community and distribute the Crypties voting NFT to voters, providing a seamless voting mechanism for the community to participate in selecting the winners of the Crypties Awards. Through this integration, Crypties voters will also now be able to receive future updates about the Crypties directly into their EtherMail inbox, driven by token-gated dynamic mailing lists. Thanks to EtherMail, Decrypt Studios received over 64,000 sign-ups with a 40% vote cast rate by airdropping NFTs to their community.
To vote for The Crypties, members simply had to create an EtherMail account, after which they received a welcome email inviting them to cast their vote on The Crypties voting platform. The user's voting token was airdropped to the crypto wallet associated with their account, which granted them exclusive access to the voting process. Once the vote was registered, the user's voting token was burned and replaced with an 'I Voted' NFT
EtherMail is the only tool in the Web3 space that allows Web3 companies to send rich, relevant content directly to their asset holders based on up-to-the-minute information. By leveraging EtherMail, companies always have an up-to-date registry of their entire set of asset holders, and can create customized email and automated communication streams. Included in EtherMail's future pipeline will be the introduction of its native utility token, $EMT, an ERC-20 token based on the Ethereum network. EMT will be a first-of-its-kind incentivization mechanism designed to reward email users for their time and attention reading unsolicited emails, creating a much-needed framework for email economics.
Shant Kevonian, CEO and Founder of EtherMail, said: "Given how often tokens and NFTs are bought and sold across the Web3 ecosystem, it has been impossible for projects to maintain direct contact with current holders of their assets. The key word is 'current'. Keeping pace with the ever-changing pool of holders requires consensual self-updating mailing lists based on real-time, blockchain-synced data. This is precisely what we've developed, a Web3 email solution tailored to the needs of Web3 projects. We're delighted to have worked alongside Decrypt Studios, a true industry heavyweight at the cutting edge of Web3 innovation."
Joshua Roth, VP of Development at Decrypt Studios, said: "The EtherMail and Crypties 'Get Out the Vote' campaign proved the power of EtherMail as a customer engagement, awareness, and information distribution tool. Not only were we able to reach a wide audience of new users, but the product's flexibility allowed us to define our parameters of voting and provide great ease of use for our voters."
Further details on the collaboration can be viewed on the dedicated case study page.
Join the official EtherMail Telegram channel here: https://t.me/ethermail_official and follow the latest developments on twitter: https://twitter.com/ethermail_io.
For more information on how EtherMail can help your project maintain a direct and secure line of communication with your asset holders, visit: https://ethermail.io/daos.
About EtherMail
EtherMail is the first Web3 Email Solution setting the standard for anonymous and encrypted wallet-to-wallet communication. With EtherMail, companies can send rich, relevant content directly to their asset holders based on blockchain-synced real time information. EtherMail also allows fully anonymous P2P communication and rewards its users for reading relevant content in their inbox.
About Decrypt Studios
Decrypt Studios is a Web3 creative studio providing blockchain solutions for brands, strategic partners, and IRL and metaverse events. Decrypt Studios demystifies digital assets and virtual worlds, providing tools to help stakeholders reach new audiences via Web3 offerings and activations. With our finger on the pulse of the industry via sister organization Decrypt Media, Decrypt Studios cuts through the hype to provide real-world results across the scope of the blockchain ecosystem.
Media contact:
lorcan@forewordventure.com
marketing@ethersuite.io
Copyright 2023 ACN Newswire. All rights reserved. (via SEAPRWire)